yo everyone!
hahaha...
just now dann, uncle xiang min, oz and i were at marina mac
and i forgot how on earth did we got to the topic about IQ
and we ended up saying that we'll go home
and do this IQ test online
to find out how much our IQ are currently.
hahaha...
and also,
just now at mac,
guess who i saw?
haha...
i met felicia!
hahahaha...
very long didnt see her liao...
oh well...
guess most properly will be going out with them next week
hahahaha....
it's really been a long time...
before meeting up with xiang min and oz,
dann and i were at the underground area at esplanade
where people will gather there to practise their dance and stuff.
we were supposed to do something...
but we ended up watching pro breakers practising
a group of malays choreoing their dance
a super diao locker
and some other groups too.
hahaha...
oh well...
i guess that's all i'm gonna blog for the night.
time to continue with taking care of my face.
hahaha...
and below is my IQ test results: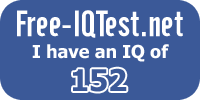 Free-IQTest.net -
Online IQ Test