Hey there everyone! Finally I get to go online and since I have some time now, I shall do some updates on stuff which I have not blog about after a long period of time.
17 Feb 2009
That day I met up with Dann first to catch a movie in the afternoon. If I didnt remember wrongly, it should be The Punisher. After the movie starting for about 1 minute or so, I fully understood why on earth is it rated M18.
The movie is just freaking violent and bloody. People don't just die die, they ALL die in a pool of blood, their own blood.
After the movie, we went for a little shop around AMK Hub area before heading down to Novena where we (window) shopped even more and settled down for ice cream at Swensen's.
Soon we met up with Gerry, Daniel, Steve and Ezzat and we went for dinner at the new brazilian buffet at United Square, Fiesta Brasilia Restaurant.
Before Dinner where Gerry and I had some fun with the camera.
The eye~~~
OH MY GOOOOODNESS!!! WHO'S THAT???!!!
The dinner at the Brazilian Restaurant is great! although it isn't really that kind of cheap cheap reasonable kind of buffet, the money is totally worth it! And seriously, many of them (eg. Steve and Xiang Min) were like complaining, saying that they are going to puke! And yup! Uncle Xiang Min came to join us after he went ome to change after his work. I seriously LOVE the chicken and mutton they served!!! yum yum~~~!!!
Half way through dinner, they will stop everything and all the staff and event chef will come out and play the instrument and sing and dance! And not only did they just entertain us, we were invited to join them as well!
You Eat, You Dance, You Burn!!!
After around 2-3 hours of meat eating, we called for the bill and endedour dinner very satisified. OK. Xiang Min was having some problems. =p
Aferwhich, we went to Mac to get some drinks and sat outside on this kiddy table and chairs.
OK. Gerry look not too bad, quite alright on those kiddy chair and table. lol.
19 Feb 2009
It was the official opening day for Nike Singapore.
Flowers Flowers Flowers~!
Here's the fashion show of NIKE. Sorry for the bad angle taking cause I was waiting for Dann and didn't dare to walk away.
21 Feb 2009
I passed by HDB Hub that day and got a chance to catch the champion for Dance Works 09 Category 1 - Primary Sector and here's our champion for the year!
Ordinary People's Passion from Yishun Primary School!!!
*sniff sniff* Tears of JOY!!!
Prize collection~
Photo taking!
The Top 3 for Category 1!
Overall 1st prize: Ordinary People's Passion - Yishun Primary School
2nd prize: Synergy - Anglo Chinese School (Primary)
3rd prize: Spunky Kids - Tanjong Katong Primary School
The shedule for this year's Dance Works 09
And here's the encore performance by Ordinary People's Passion!
And as a whole for what did I do to keep myself entertained, magazines.
I got so gaga over magazines out of a sudden during my short holiday. I seriously think it's because I havent bought any for the past a year of so. I was too busy with JMD, Adorthymatics' practices I didn't even really bother about fashion and stuff!
Like (I think) I did mention in previous don't know how many post before that I went crazy and bought 3 magazines at one shot!
And here are some photos of some pages which I find either most interesting or somehow just made me remember most in the each magazines.
From ViVi Taiwan Version
A full page of some most liked mascaras!
Eye makeup tutorial!!! I just cant have enough of eye makeup tutorials as I feel that the eyes are the most important factor to doll up on my face! And like we always say in chinese that our eyes are the windows to our soul (Ling Hun Zhi Chuang).
Girl Taiwan Magazine
6 full pages to explain what is the popular BB Cream and guides you to choosing one BB cream that's most suitable for you!
Mina Taiwan Version
OK. Simply because I like the sweater and it's 2 full page of Rainie. =p
I LOVE THAT 'DRESS'!!! But SUPER Expensive sia~
Eye makeup tutorial with only Majolica's products.
2 full page of some new items from PUMA
And just to show you that all 3 magazines I bought has this NIKE Sister advertisement. lol.
OK. Just these 3 magazines does not prove that I really went gaga over magazines. I even went to read online magazines!!!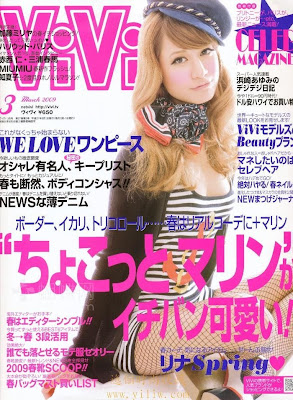 ViVi Japanese Version
Nike Sister. I love the whole color of the pages which gives (of at least me) a cheerful feel instead of just a sporty feel.
And what do females go crazy about besides bags?
HEEEEEEEEEEEEEEEEEEEEEEEEELS!!!!!!!!!!
OH MY GOODNESS!!!
One thing I like about these Japanese base kind of magazines
Different ways to match your clothes!
Mina Japanese Version
How to get relieve from cramps~~~
OK. I did read many many many many many MANY!!! other magazines but am kinda lazy to choose and upload EVERYTHING on to my blog. It's gonna take forever!
Ok. That's gonna be all for now.
Time passes fast when you're doing something you like. It's almost lunch time already! hahaha... Gotta go!
Have a nice day ahead!