Today after meeting Dann and Daniel in school where I also got to meet Fook Yu and talk to her a little, I made my way down to Bugis where I was to meet Gerry there!!! hahaha... It's like the second time the both of us are going to just walk around, window shopping and stuff. We actually wanted to watch movie and decided to just go the the ticketing booth there and see what movie interest us then decide what to watch cause we seriously couldnt make up our minds!
photo taken in school while waiting for Dann.
So we met up and started our window shopping around Bugis Junction and I just realised that there are quite a few new shops around but *ahem* the price of stuff just keeps going up and up and up lar~ We saw some really good bargains for dresses sold for only $19.90SGD!!! And I mean those formal dresses that is sold in Bugis Junction itself and NOT Bugis Street okay~? Oh well, shall see I actually will back there after my short vacation.
OH~! I got this cute wrist rests!!!
I got the Egg for Dann and the Mushroom for myself. heehee...
We got hungry after window shopping so we went to the basement to get ourselves some food! We decided on otah rolls in the end. We each bought 2 flavors which means we tried a total of 4 flavors of the 6 available! hahaha... We tried the crab, prawn, mushroom and cheese, and chicken. They all taste nice but for me I like the crab otah the least as I find the crab taste a bit too strong for me.
when Gerry see Stitch!!!
otah rolls!!!
Gerry and her otah rolls!
photo taken by accident which I find it nice in a way~
me and my otah rolls!!!
After finishing our otah rolls, we went to take neoprint!!!
photos of a neoprint process...(lol)
Ready? 3..2..1..
KA-CHA!
Gerry spots the camera!!!
And the final product mah...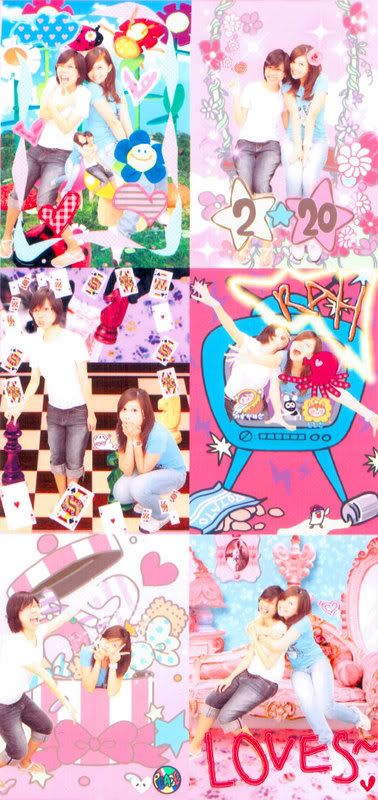 TADA!!!
(ok. the scanner kinda sucks)
After we've taken our neoprint, we went back down to the basement for ice-cream as we saw earlier on that Uzumaki is currently have promotion for their 3rd Anniversery!!!
3 Scoops of ice-cream for $3 ONLY!!!
So of course Gerry and I will get ice-cream!!!
I had Milk Tea, Red Bean and Green Tea.
Gerry had Milk Tea, Red Bean and Mint.
Apparently the mint doesnt go well with the milk tea. It just made th milk tea taste like plastic! The red bean is nice!!! (Both of use agree on that)
After having our ice cream and Gerry getting her slippers (the first time I see Gerry buying someting for HERSELF!), we went to Orchard where I wanted to pass Dann the Egg wrist rest i bought for him but in the end he asked me to bring home first. So ya, that's the reason why I still can take a nice photo of both wrist rests above.
We soon left the shop and went to Paragon for awhile where Gerry got her Stitch keychain for the がざがざ machine outside Toys'R'Us and a quick walk there too, we went over to the building where Ezzat works at and waited for him after his lessons before we all took the train upwards. I went home, Gerry went for her lessons and Ezzat went to play magic (-_-'")
After I've reached home, I found a letter being sent to me in the mail box!
hmmm... no "from" address at the back. I seriously wondered who is it from.
and it is my Twin! Li Jin!!!
So sweet of her to send me this. Known her for like around 7 years already and this is the first time she sent me stuff! This silly girl ar, wrote silly stuff on the card.
Hey girl, come on... what are friends for? Friends may not always be with each other but will always be there when you need a shoulder, ok? No need to say sorry for that silly thing lah, it's nothing. Like I said in this SMS, it's all part of life, too. *HUGZ*
Ok. That's gonna be all for now.
Have a good night everyone!