good afternoon everyone!
well, i just woke up not long ago and seriously, it feels super great to be able to sleep till i wake up myself. however, i guess i will still wanna try to maintain the timing of waking up at like 9am if not it's sure gonna be difficult for me when my attachment starts.
right now, i'm on my break and today is the very first day of my break! (weekends not included) wahahahahaha...
i have nothing to blog about today as i just woke up like 10mins only?
but i sure had a great and tiring and emotional weekend.
on
Saturday

,
i spent my day traveling from one place to another.
in the morning, i went down to school to have mac breakfast with dann before going down to JMD for just a short while. they were practising their traditional dance for upcoming club crawl performance. well, i have nothing to say except that they really need to get their basics right first if not everything will just look ugly and they may just injure themselves in long term. first, they are sure gonna injure their knees lor~
after leaving school, dann went to work whereas i made my way down to JAS to register for my japanese language lessons. i seriously gonna do some refreshing after that 1 term of not touching any jap! i didnt even watch japanese dramas during this period of time lor! argh~ wonder how is my jap now...
after getting my jap lesson registered, i then made my way to bugis for CozyCot's Weekend Blogshop event. i took a bus to bukit batok then took a train down to bugis. a long ride, long trip to bugis, but i sure am glad that i brought my book out with me. so i covered like more than 1 chapter of the book on my way to bugis.
once i reached bugis, i went over to bugis street first to find my mom as my ezlnk card was only left with a pathetic $1.15 after all the bus trips i took earlier that day. so i go from her some money to top-up my ezlink card and also she gave me some money for shopping as i told her i was going for some "sales" thingy. hahahaha...
next, CozyCot Blogshop event!!! heehee...
ok, that place was kinda packed that day taking the small space into considerations too. however, i really was packed with people but quite a few people just left without buying anythings as it really was a little difficult to shop in peace with all the people around.
well, for me i did get some stuff and i'm
happy!
about it. wahahahaha...
i got myself a dress from the stall of one of my favorite blog shop,
http://oh-s-w-e-e-t.livejournal.com/
.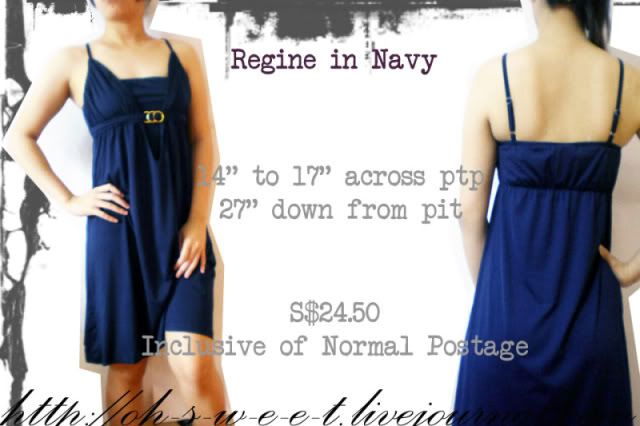 photo credits to
http://oh-s-w-e-e-t.livejournal.com/
.
as you can see from the photo above, it costs $24.50 if you were to buy online, but i got it for only $20. and also there were many other nice clothing and bags and stuff from different other blogshops there but i didnt had the money to get everything i like. and this dress can also be worn in another way too!
photo credits to
http://oh-s-w-e-e-t.livejournal.com/
.
yeah it's pretty but i'll never wear it out in the 2nd way. hahahaha...
i also got myself a pink pouch where i intend to put my cosmetics in but i currently use it as my tissue bag. =p
so blink so cute right?!
i also got myself a top masacra coat from shiseido from the same blogshop stall i got the pink pouch from. hmm... i do not know what blogshop it is as it was one of the few blogshops that didnt actually give out their name cards. but most of the blogshops did and i guess i'll be getting myself a bag from one of the blogshops after lunar new year if i have extra money after getting myself a better foundation with my hong bao money.
and like CozyCot always give out for like every single event, samples!!!
they gave out the Johnson's lotion as a door give for all cotters. but if you were not a cotter but still went for the event, you could sign up immediately at the counter and get that door gift, too. in the photo there are 3 perfume samples that actually were in the pink bag by kotex with like lots of pads and liners inside which is given to you as long as you make any purchase from any blogshop that day. ok, i was thinking of getting a pouch to put the female necessities in for quite some time and it just came in handy! hahahaha...
after shopping at CozyCot, i went to vivocity to meet uncle xiang min. well, we went shopping for braclet and also clothes for the new year for him. ok. in short, we shopped from vivo, to paragon, to wisma, to forum, to isetan lido, to taka and back to wisma to wait for dann to end his work. so imagine we shopped for like hours from say 3pm to 9pm with like an hour of break when we had our dinner at the foodcourt which serves great food! (ok, i admit i never remember the building's name) and after meeting dann after his work, we went back to isetan lido as he wanted to get the jeans that i found for uncle xiang min when we went shopping there earlier on. but it seems like that was the only pair there so dann didnt get anything in the end but xiang min getting another pair of jeans. after the whole day of shopping, xiang min was like super tired but as for me, i'm alright! haha... guess it's just borned in the females i guess. shopping for the whole day? no sweat! so after the whole day of shopping, xiang min got 2 super good deals of
DKNY jeans
, 2
Nike t-shirt
and a pair of
Nike Kobe 4 white
. and i also got myself a new mascara from Fasio, the hyper stay and shock proof mascara.
ok. i wore it out yesterday and rubbish to the "no clumps" and as usual the thing i hate most about fasio's mascara,
IT JUST CANT GET CLEANED OFF!!!
i swear i'll
NEVER
get myself a third fasio mascara!!!
ok. back to the day.
after dann changed out of his work attire, we went down to forum's coffee bean where OZ was already waiting for us after his forced shopping. we then sat down and had some chit chat before going home.
Sunday
, yesterday!
i met up with uncle xiang min at raffles city as dann was late. ok, all of us were late but just that dann was later. =p we went shopping around for awhile but then settled down at MOS for lunch while waiting for dann to come. i got myself another MOS hp strap but i dont intend to hang it/them. i just wanna keep them nicely aside. heehee...
after dann arrived, we then went to shop around for a shirt for uncle xiang min. bascially we shopped shopped shopped from raffles city to marina square. ok. the end of shopping. we ended our shopping when daniel at pei di arrived at MAC where we then went down to meet them and had some drinks and talk while waiting for the rest to arrive.
when everyone's there, we made our way to waraku for ezzat's birthday celebration dinner! and yeah~ ezzat is now the blue ranger! hahaha...
after dinner, we went back to MAC to chit chat before it hits 11pm where MAC closes where everyone then went home. sat daniel's xiao bai back and it was the first time i actualy experienced the journey under the KPE tunnel. and seriously, now i know why it's like to empty and i never wanna sit in anybody's car or taxi or whatever if that vehicle has to pass by the KPE tunnel. my chest hurts again and i went out of breath when we were towards the end of the tunnel. i seriously hate that feeling. just imagine if the tunnel was slightly even longer, i seriously do not know what's gonna happened next thinking that i didnt bring my "heart" medicine out.
but overally, it was a great weekend and i really love it having everyone in this family, being in this family, being with everyone in it!
cheers everyone!