Finally I'm blogging this post!!! There's like almost 300 photos taken that day from both Steve's and my camera so I had to really go through and selecting the photos to be blogged which I ended up with like almost 200 photos?! So I really had to take a long time editing these photos and going through them once more while editing them. So there's like 138 photos that's gonna be in this post with some actually having a few combined in one. So ya... just imagine how Xiang Min spammed snapping photos with my camera that night! hahaha... And ya, please let the photos load for a while. I don't think it should take long... I think...
2 weeks ago on the 10 June, Wednesday, it was Xiang Min's birthday and we spent a whole day out celebrating his birthday! The very last year of age starting with a '2'. =p
We first met up for Burger King breakfast at Wheelock together with Dann and Joanna. After which we started our shopping trip as Xiang Min wanted to get a bag using the vouchers he got for his birthday from his friend. So we went from Forum where I met Justin at Club21, to Isetan, to Paragon and lastly Takashimaya. He just couldn't decide to get either the CK messenger bag or the AX tote bag. Well, I prefer the AX bag though.. I feel that it's more style and more suitable to work, too. (He got the AX bag at last that very Sunday itself)
After shopping around, we went over the Cash Studio for Karaoke!!! But before that, we went to the nearby Cold Storage at Centrepoint to get some snacks and drinks.
*Ching!* So that's Xiang Min, Jo and Steve!
(Oh ya, Steve joined us when we were at Forum)
And first was Japanese Songs!!! I just couldn't make up my mind on what to sing that day as their song books were all outdated. The latest book available was last November's one lah! But I did make up my mind on 夢 by 柴田 淳 after some time... I love that song! It was once on my play list for my blog and my friends love it, too!
*Sing sing sing*
Xiang Min deciding on what to sing, too...!
Helping Jo to decide on what song to sing, three!!!
Once again I bought this mayonnaise flavor potato chips! I love it! I introduced them this flavor of potato chips and I had made Jo and Xiang Min love it, too!!! Wahahaha!!! It's really very very nice!!! I notice that only 7-11 and Cold Storage has it. So if you do see it, give it a try! It's really nice!!!
我送你离开千里之外~
After Karaoke session, we went to UE Square for Japanese food buffet for dinner!
The restuarant's name
My cold tofu~~~ Doesn't taste nice to be honest.
Ezzat and Dann deciding on what to eat
Green tea! Cheers!
Some salmon thingy which taste just like chinese food
NOTE: It was served like that. We didn't mix it up at all!
After this photo, I lent Xiang Min my camera where he just spammed taking photos.
OZ and Steve
And yes! Jaeson was there, too! It's been a long time since we all last met him proper.
Ezzat's smile~~~
F3 cheese~!
Xiang Min and Jasmine
Jo and I
I like this photo somehow even though I look a little fat in it. =p
Gerry and I
Puffy Fishy!!!
OZ looks kinda cool in this photo ya?
This was totally candid! OMG I look so awful and look like my mom lah! Meow~!
Yes~ My teeth are not straight. Still waiting till I have money for braces.
OK. Personally I don't like the place. OK. Everyone else feels the same way too. So I will tell all of you and you to tell your friends and family, NOT TO GO THERE!!! If you want great Japanese buffet you can try Akira 章 at the New Hotel or the japanese resturant right opposite 李伟松's music school at somerset area. The price are about the same but they food are good and so is the service.
Where's Gerry?!
Jae and XM on the road
After dinner, we went over to Coffee Club near Rebel.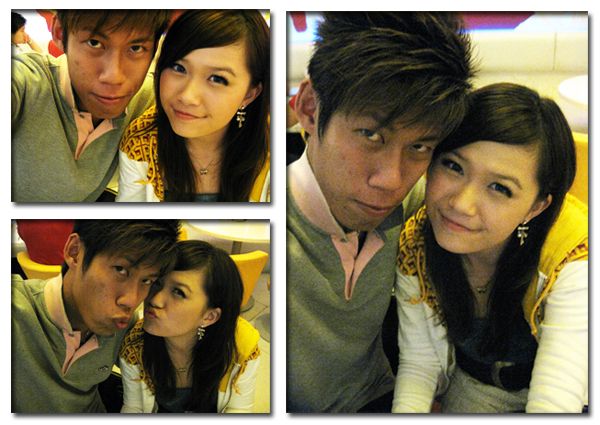 Hee~ I like this photo~ So cute~
MUDPIE~~~!!!
MUDPIE!!!!!!
Who's teeth are those?!
DANN's!!!
My toffee coffee
I feel that Jo looks like some small little girl who just can't wait to get her hands on her strawberry coffee! hahahaha...
Gerry's apple soda!
Mudpie craze
Xiang Min giving us each 5 cents as we got his shoes for birthday present. Some supertisious thingy~
Our 5 cents!
Jordan Jersey for present
And a pair of Jordans! Xiang Min's very first pair of Jordans!!!
Dann and Jasmine's piglet.
NNNOOOOOOOOOOOOOO~~~~~~~~~!!!!!!!!!!
I had a great time that day! Yeah!!!
Sorry for the lack of text content in this post as I'm like super lazy to give every single photo a short description of anything already. =p