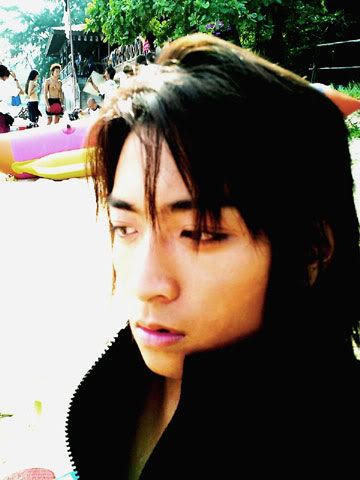 ~tell me wat is tis guy thinkin..~
u may think his sad, or maybe even jus day dreamin..
but u will never kno how tis person feels exactly if u dun ask and he doesnt say it out
jus like me...
today wanted to go for gb but den i didnt
i dun wanna go gb... i always feel left out
i dun like gb... and i never liked it before!
i really dun understand why i joined gb in sec 1...
well...
its because my sis say join uniformed grp hao...
and wanted me to join a uniformed grp...
but... i didnt thought of it... am i really suitable to be in a uniformed grp?
well.. i can say.. the answer is no.
i wanted to join sports... i dun like the uniformed grp thingy.. never liked it before.
not in the past,
not in present,
and i think...
not in future too...
why didnt i jus join badmintion in sec 1?
well.. i was in badminton in pri sch.. and i like it...
i dun have to be always in grps and can be able to live alone in sports cca...
how stupid of me!
for once... i regreted listenin to my sis.
but wat can i do now?
tis stupid horrible freakin cca sytem in sec sch is so!
i have to stick wif tis horrible cca tt i never liked for my whole entire sec sch life!!!
i dun have any real good friends in gb...
even if i have mag in there... she's not always there...
im still usually alone...
wat a idiot horrible stupid silly choice of me chosin gb as my cca!!!
HATE IT !!!!!