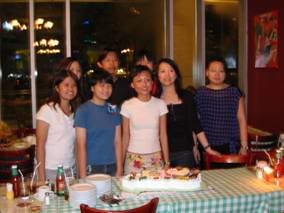 today... super tired...
woke up ard 1 like tt...
den ard 2 like tt...
sms ed ask wat time they goin out...
see if i still can go catch a movie wif them...
yeah! time was jus nice!
i quickly bathe den go out liao...
supposed to watch movie... but den they in the end dun wanna watch movie liao...
*which means i dun have a place for me to sleep*
*yawnz..*
den they go eat sake...
these guys ar....!
haiz...
eat liao hor... den all run away!
den genie hanve to pay the bill...
genie ask them to return the money... they dun wan..
all ran away...
genie took a scissors a cut/make a hole in 40's shirt!
ar!!!
*heart break man...*
den we have to chase have them the whole mrt station to catch them...
*haha... i catched 40!!! :P*
oh well... time flies....
after some time... i have to go for my cousin's birthday thingy liao...
took the mrt wif genie to hongang den go back to clarke quay...
when i reached clarke quay... i den have to wait for raymond to come bring me to the birthday thingy...
first time sittin bike.... quite scary ar....
*seriously... i rather sit some scary rides where i'm seriously more prepared for something to happened*
den auntie mirene (i think tts how it spelled) ask raymond to go along too..
guess where it is...
jack's place!
ar!!!! i'm seriously not good at usin fork and knife man....!
saw my niece (the younger one) again...
she so cute!!!!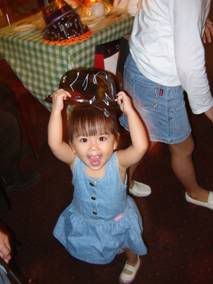 *she veri cute rite?*
their whole family have one similarity.... they all have pretty big eyes...
haha....
*ed... their eyes even bigger ok?*