~this is wat i call art!~
today was a wonderful day! totally! sch of cos was normal... but wat makes its special is wat happened after sch... we, ms quek, felicia, xin yi, ee ling, priya and I, went for a talk made by ppl who won gold awards for their art work... first time goin to an art exhibition... wao... those art work seriously beautiful one lor... i love one art work tt in tis pic have a girl (from the back) standin in the hills/mountians den on the left hane side of the art is the sea....veri super nice one lor... no.. nice is not the word... watever nice words also cannot use to describe man... nice.. beautiful... pretty... etc. etc...
~not gonna say abt durin the tok~
den after everything(the talks) we went to see the exhibition... after tt... we all went for... FOOD!!! ms quek treat us satay... how to think abt it... I FORGOT TO THANK MS QUEK!!!!
den we all went home takin the mrt.... i think tts all i wanna say..
haiz... seachin for the pic of the art work... SERIOUSLY LOR!!!! won sliver only... haiz... wasted man...
once again... although i kno ms quek wont see it... THANK YOU!!!
'an artise is nothing without the gift, but the gift is nothing without effort"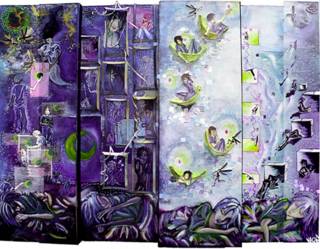 *rainn*