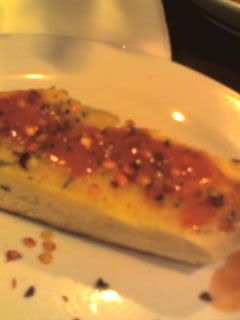 wat do u think u're seein in e pic above?
garlic bread?
oh well...
it's garlic bread all rite...
garlic bread wif
1.chilli sauce
2.pepper
3.salt
4.cheese
can say everything u can find on the table at pasta mania...
who's gonna eat it?
oh there's someone's tts gonna eat it all rite...
who?
alvin...
--------------------------------
pri and i suddenly felt like eatin pizza and pasta tis mornin...
so we decided to go to pasta mania after sch for lunch...
at first it was only pri, li juan and i...
but more ppl ended up eatin lunch wif us...
haha...
tts a good thing...
we some how 'got the whole shop to us'
haha...
no lah...
jus tt we eat eat eat...
den only left us 8 in the shop...
ok...
got some stuff happened...
saw the pic above rite?
wanna see the makin of it?
and alvin eating it?
click at the link below and dl the video ba...
*alvin... i mean it when it's goin to be on my blog*
haha...
click here